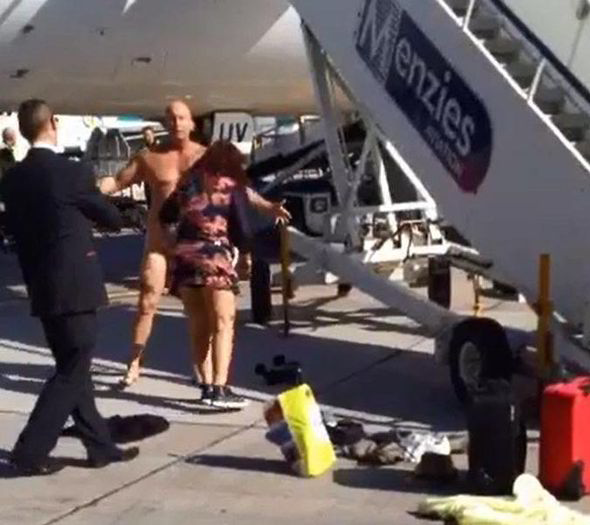 A DRUNK airline passenger stripped naked and challenged the plane's captain to a fight on airport tarmac before being tasered by police.
The burly, tattooed 52-year-old was caught on video stripping to his black underpants, shouting and remonstrating after stepping off the easyJet flight from Malta to Manchester.
He then removed his underpants and received a hard slap across his face by his female companion before putting his clothes back on.
The incident was caught on video. The stripper, who has not been identified but spoke with a Manchester accent, also urinated on the side of the Terminal One building at Manchester Airport and was later tasered and arrested by police.
Trouble reportedly first began mid-flight when the man became abusive and started swearing at fellow passengers and the captain left the cockpit controls to speak to him.
After being slapped following the plane's landing, he put his clothes back on before going to collect his baggage but police caught up with him.
They tried to control him but had to stun him using a "dry" Taser – where the gun is held against the target to cause shock and pain – when he refused to co-operate.
He was then arrested and given an on-the-spot fine.
A spokesman for Greater Manchester Police said: "At 9.50am on Thursday September 26 2013, police were called to Terminal One arrivals of Manchester Airport following reports a man was drunk and being abusive to passengers on a flight from Malta.
"As he left the plane, he took his clothes off and urinated against a wall.
"A 52-year-old man was stunned using an electronic stun gun and arrested on suspicion of being drunk and disorderly in a public place. He was issued a fixed penalty notice."
https://www.miamiflightacademy.com/wp-content/uploads/2013/10/nude-on-tarmac.jpg
525
590
Miami Flight Academy
http://www.born2fly.fr/wp-content/uploads/2014/11/MiamiFlightAcademy.png
Miami Flight Academy
2013-10-11 23:04:01
2014-10-31 11:32:55
Drunk passenger challenges airplane captain to a fight after stripping naked