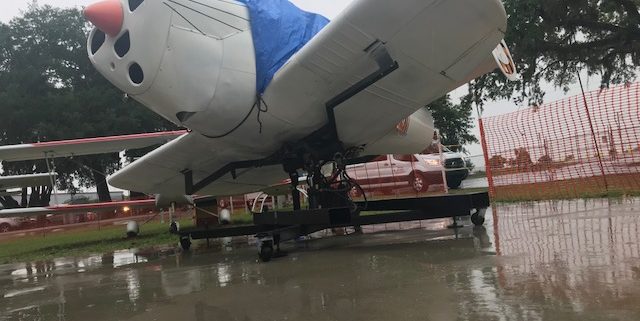 Are you an aviation enthusiast or pilot? Sign up for our newsletter, full of tips, reviews and more!
The annual Sun 'n Fun fly-in, which got under way Tuesday, is already having a bad week.
The Air Force Thunderbirds, who were scheduled to appear at the show, had to cancel their appearance after a tragic crash claimed the life of one of the team's pilots. Stephen del Bagno, 34, died in a crash in Nevada last week. The Air Force, Sun 'n Fun officials said, they are working to get some aircraft to demonstrate at the show in the wake of the tragedy.
Weather is an issue for the show's start, as well. This morning a strong storm moved through the show grounds dousing the field with rain and bringing strong winds. The storm was expected to be on site for an extended period, and low weather has prevented aircraft from arriving at the show.
The weather is expected to improve throughout the week, and Sun 'n Fun said that ticket sales were up 15 percent this year over last year, a good sign for better things to come for Sun 'n Fun 2018.
The post Sun 'n Fun Off To A Rain 'n Pain Start appeared first on Plane & Pilot Magazine.
https://www.miamiflightacademy.com/wp-content/uploads/2018/04/4161/sun-n-fun-off-to-a-rain-n-pain-start.jpeg
480
640
Miami Flight Academy
http://www.born2fly.fr/wp-content/uploads/2014/11/MiamiFlightAcademy.png
Miami Flight Academy
2018-04-11 13:06:21
2018-04-11 13:06:21
Sun 'n Fun Off To A Rain 'n Pain Start