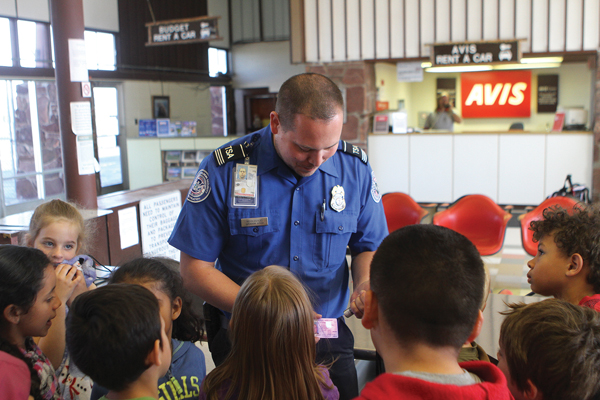 Students gained a behind-the-scenes glimpse at how an airport functions earlier this week, as the Yellowstone Airport invited local classrooms out for a day of fun in the world of aviation.
Yellowstone Airport manager Jeff Kadlec came up with the idea of a field trip for local students, and had Dave Hoerner and Stefani DeMars come down from the Montana Aeronautics Division in Helena to let the youngsters try out a flight simulator and sit in the cockpit of a Cessna 206, while giving each student a toy plane to take home.
Hoerner serves as the head safety and education bureau chief for the Montana Aeronautics Division, traveling around much of Montana for clinics all year. They do this, in part, to spread aviation awareness.
"We work a lot with kids to try to build awareness in aerospace and aviation," Hoerner said. "In little towns they don't get introduced to aviation, so we let them realize what aviation does. It's not just a pilot, there's a lot more to do in aviation than just flying. We're trying to spark a little interest."
Students in Shelley Johnson's first-grade class and Jeanne Hoskins' second-grade class came out for the morning, while Sarah Hanson's sixth-grade class spent the afternoon at the airport.
As Johnson and Hoskins' classes arrived, students first watched a short film, followed by hands-on time with a flight simulator. Later, students met with on-site Transportation Security Administration officers to learn about the various machines, scanners and technology they utilize to keep air travelers safe.
After individually weighing themselves on the airport baggage scale, students headed out onto the runway to meet with Air Idaho Rescue staff and get a close peek at a Bell 407 helicopter.
Before wrapping up the half-day excursion, Kadlec helped each student board a Cessna 206 airplane. This allowed youngsters to explore all the controls and pretend they were flying, if only for a moment.
Hoerner and DeMars assembled a free toy airplane for each student to take home, and many tested out their new set of wings on the runway before enjoying an ice cream treat to end the trip.
Kadlec says bringing students out to the airport helps show children how the airport works, while also introducing them to a possible career path.
"It's a great opportunity for kids to be exposed to aviation at their own airport," he said. "I think they hard fun; children are intrigued with flight."
Kadlec says he became interested in aviation in a similar way as a child.
"I fell in love with aviation as a young child going to air shows," he said. "If they catch the aviation bug, it's a cool industry to get into."
The airport manager says he looks to continue hosting field trips on an annual basis, as he wants all the students to eventually experience a similar field trip.
The airport also recently held an art competition with the school, where the top student art in each grade from K-6 will be put on display in the terminal throughout the airport's summer season. Art being displayed includes the area's wildlife, thermal features and landscapes.
https://www.miamiflightacademy.com/wp-content/uploads/2014/06/Students-gained.jpg
400
600
Miami Flight Academy
http://www.born2fly.fr/wp-content/uploads/2014/11/MiamiFlightAcademy.png
Miami Flight Academy
2014-06-13 20:14:19
2014-10-31 11:29:25
Students learn about aviation at local airport field trip